HISTORY OF THE VALLEY FORGE CHAPTER, founded in 1967
Charles Herbert and a group of several others founded the Valley Forge Chapter of the American Rhododendron Society in 1967. Charlie was a member of the Valley Forge State Park police, and since 1925 he'd had an interest in the genus rhododendron, having seen them growing in the park. He was, however, dissatisfied with the ones he saw growing there and started to collect seeds and raise the plants himself. He raised the seed and introduced many rhododendrons, including r. Valley Forge, shown on our Home Page. An early member also of the Philadelphia Chapter, Charlie was the first recipient of the Bronze Medal from the Philadelphia Chapter in 1971. He died in 1978. In 1982, a Memorial Garden was established by the Valley Forge and Philadelphia Chapters and dedicated to his memory at Swiss Pines, in Phoenixville, PA.

For more details on our Chapter history, visit these pages assembled by Steve Henning, a member of the Valley Forge Chapter since 1972 and the creator and proprietor of Henning's Rhododendron and Azalea pages, the authoritative, non-comerical website in the United States for know-how on rhododenron and azalea cultivation.
VALLEY FORGE CHAPTER MEMBERS IN THE NEWS: STEVE HENNING
Our colleague Steve Henning was ARS SIlver Medal Award at the 2012 ARS National Convention in Asheville, NC.

You have mastered the development of internet websites and used them effectively to inform and instruct the public about rhododendrons. Henning's Rhododendron and Azalea Pages was one of the earliest sources of on-line information. District 8 benefitted hugely from the website you developed for the 2009 Eastern Regional Conference. When a major historic azalea collection was announced for destruction, you took the initiative and created a website to focus activities to save it. Your efforts have stopped the pending destruction, helped raise monies for the continued preservation of the azaleas, and attracted U.S. Congressional support. For your outstanding contributions, the American Rhododendron Society is pleased to present the Silver Medal to Stephen M Henning.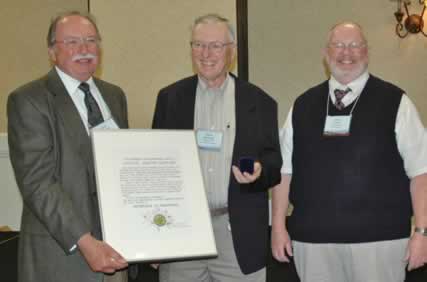 Photo shows District Director Karel Bernady (left) and ARS President Don Smart (right) presenting the award to Steve.